CutFoodWaste Hospitality industry
The hospitality industry's historic collaborative project, CutFoodWaste2020 ended after four years of good results, with a food waste reduction of 15 %. The project created an important foundation for the work in this sector, with clear definitions, indicators, systems for measurement and reporting, training and communication tools and sharing of best practices in the industry. Key actors, including group purchasing organizations, have joined forces with Matvett to continue the work of cutting food waste in the hospitality industry.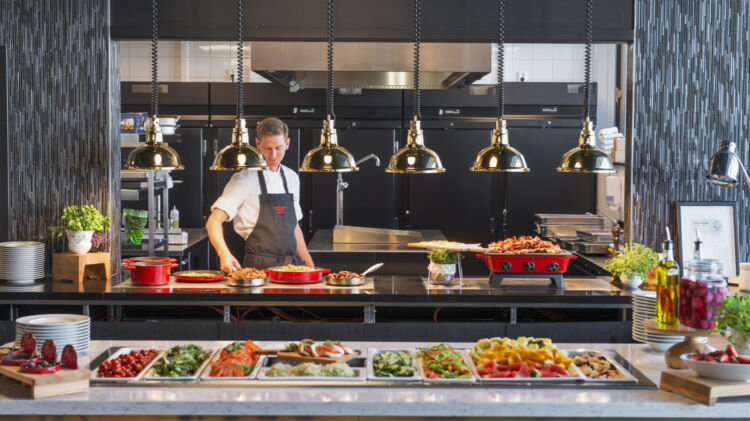 Results from CutFoodWaste2020
The aim of the project CutFoodWaste2020 was to reduce food waste in the foodservice industry by 20 % over the period from 2017 until 2020. This objective supports Norway's commitment to UN's Sustainable Development Goal 12.3 to halve food waste by 2030. In order to achieve this goal, the project quantified the volume of food waste, explored its causes through the whole supply chain (procurement, storage, production and serving) and introduced measures to prevent and reduce food waste in the participating businesses.
More than 1800 food service facilities were involved in the project, where the main focus was measuring and monitoring food waste, developing competence among employees and implementing anti-waste measures. The aim of the project was to involve as many sectors in the food service industry as possible (hotels, restaurants, contract caterers, catering services, kiosks, cafés and gas stations and the public sector).
Food waste prevention provides a triple gain. Increased profitability for the company, reduced impact on the climate, and a more efficient redistribution of food for a growing population. In total, the participants in KuttMatsvinn2020 achieved a food waste reduction of 15%, which is equivalent to 390 tonnes, corresponding to 24 million norwegian crowns and 1,400 tonnes of CO2 equivalents.
Find the final report of the CutFoodWaste2020 project here
″CutFoodWaste2020 proved the importance of collaboration to reduce food waste and its impacts on the economy, the climate, the environment and the society. The industry will eventually recover from the impact of the COVID-19 pandemic, so it is important to continue the good work. Investing on raising employees' competence and awareness of food waste today, will benefit the industry when it is back in full swing tomorrow″

Morten Karlsen, The Norwegian Hospitality Association's group purchasing organization
With CutFoodWaste Hospitality industry Matvett continues the work by recruiting companies and help the industry to implement effective measures to reach the longterm goal in 2030.
Letters of intent
The aim of the letter of intent is to commit to continue the work after the CutFoodWaste2020 project, and to be able to follow up participants with a practical toolbox when the industry is back in full activity. So far, the following actors have signed the intention agreement; ASKO, ISS, Scandic Hotels, THon Hotels, Nortura, BAMA, Equinor, the Norwegian Hospitality Association's group purchasing organization, The Federation of Norwegian Bakers and Confectioners (BKLF) , The Norwegian Federation of Service Industries and Retail Trade, Knif, Nores group purchasing organization and SIN purchasing cooperative.